The Recycling Process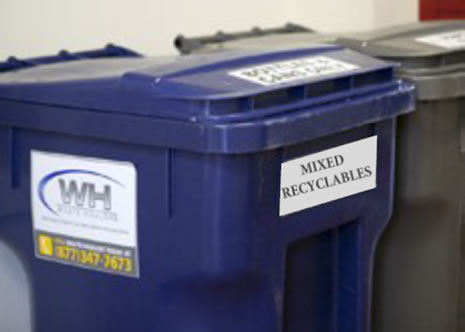 When the college's cleaning company staff (currently ABM Janitorial Services) empties the trash receptacles and recycling containers, they are emptying the contents into their cart. The cart has two different bags: one black bag for trash and one white bag for mixed recyclables such as paper and bottles and cans.
(Cardboard boxes should be flattened out and placed by the blue bin. They are also taken out for recycling).
After the blue bins are emptied, the recyclables are then deposited in the large totes marked MIXED RECYCLABLES that are in every building. ABM then brings the totes outside twice a week and Waste Haulers, our recycling hauler, empties them. Cardboard is taken out daily and picked up by Physical Plant staff for recycling.
At Waste Hauler's facility, items are cleaned and contaminants are taken out. Recyclables are then sent to the recycling facility at Rhode Island Resource Recovery in Johnston, RI. Cardboard is shipped by the truckload to different mills, where it is remade into cardboard or different paperboard, such as cereal boxes.
All ABM staff are trained and instructed to recycle by following these procedures. Please be aware that if ABM staff are throwing the contents of your blue bin in the trash, it is because the contents are contaminated with TRASH. Please be sure to use the blue bin for MIXED RECYCLABLES ONLY!