Recycling
The Providence College Recycling Program strives to promote an environmentally conscious lifestyle to all members of its community through its' recycling efforts on campus. Such efforts range from students recycling in dorms; faculty/staff recycling in their work spaces; recycling old and used computers and hardware; to the recycling of spent materials on construction sites.
This Recycling web page is dedicated to providing information about the wide range of recycling efforts that occur on campus. The links to the left provide information regarding the where, what and how of recycling on campus.
The Recycling Program at Providence College is successful due in large part to the efforts of the many members of the campus community. The program appreciates all of the efforts made by those who continue to do their part to reduce, reuse, and recycle.
Our Mission:
The Recycling Program at Providence College endeavors to reduce waste on campus, promote recycling, and maintain a clean, sustainable and environmentally conscious campus. All students, faculty and staff participate in the recycling program. The participation of each individual at Providence College ensures the success of the recycling program.​
How this is achieved: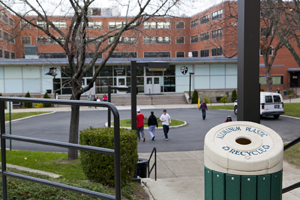 The Providence College Recycling Program strives to educate students, faculty and staff about recycling procedures and policies on campus. Students, faculty and staff are kept up-to-date through our newsletter, The Campus Green, as well as occasional mass emails. In addition, student "Eco-reps" educate students on campus regarding what, where, and how to recycle throughout the residence halls.
A successful program is also achieved by ensuring that all buildings and outdoor areas on campus are equipped with the proper amount of recycling receptacles. Batteries, ink cartridges, and small electronics can be dropped off at one of our recycling "stations", which are currently located in the Accinno elevator lobby, the Library lower level, and across from Dunkin Donuts in lower Slavin. ​
​
Campus Green Archives