Recycling
The Rhode Island Resource Recovery Corporation (RIRRC) has implemented changes to its' Material Recycling Facility in Johnston, which directly impacts recycling procedures at Providence College, as the state now uses a "single-bin system" From now on, any recyclable bottle, can, or paper item may be placed in any recycling receptacles on campus. (Please watch the "How To Recycle Right!" video on the right!) We appreciate your patience as we work to update our website and the labels on recycling receptacles, which will eventually read "Mixed Recyclables." Thank you!
Mission:
Recycling for certain categories of solid waste is mandated by Rhode Island State law.  The Recycling Program at Providence College endeavors to reduce waste on campus, promote the recycling of materials, and maintain and promote a clean, sustainable and environmentally conscious campus.  The Providence College Recycling Program strives to educate students, faculty and staff about recycling procedures and policies on campus. All students, faculty and staff participate in the recycling program. The participation of each individual at Providence College ensures the success of the recycling program.​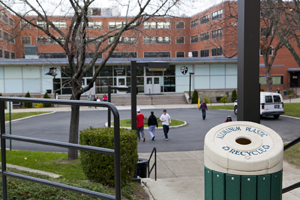 How this is achieved:
A successful program is achieved by ensuring that all buildings and outdoor areas on campus are equipped with the proper recycling receptacles. Old receptacles and containers are replaced with new ones on an as-needed basis. Recycling stations are currently located in the Accinno elevator lobby, the Library lower level, and across from Dunkin Donuts in lower Slavin. Students, faculty and staff are kept up-to-date through our newsletter, The Campus Green, as well as occasional mass emails. Student "Eco-reps" educate students throughout the residence halls. The college Sustainability Committee also promotes recycling, along with issues of reuse, waste reduction, energy and water conservation and awareness of various environmental issues.
​