Information for Students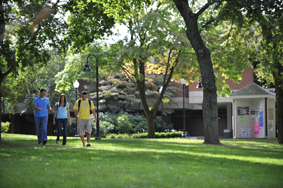 With nearly 4,000 undergraduates, the student body of Providence College has a tremendous impact on the recycling efforts at the College. It is the belief of the Providence Recycling Program that a well-informed student body makes for successful recycling and sustainability efforts in dorms, academic buildings, and off-campus.
Students should be familiar with recycling procedures in both dorms and campus-wide, in addition to the ways in which they can reduce their energy use. Most recently, students should note that recycling procedures have changed on campus. Students no longer need to separate paper from bottles and cans. Students may now recycle mixed recyclables together in one tote. This portion of the webpage is dedicated to providing students with more information about such changes, in addition to how they can reduce, reuse, and recycle to the best of their abilities at Providence College.