Event Recycling
Providence College is host to many events, from small office parties, to student concerts, to graduation.  It is important to keep in mind recycling when you are planning an event.  The Recycling Program has special totes to be used at events only.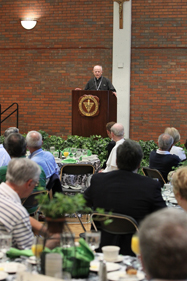 If you are planning an event keep in mind the following:
The date and time of your event
How many tables and chairs you will need, and
If you need trash containers, include recycling totes!!
*We generally recommend one recycling tote per trash container, so that recycling is easy and convenient for everyone at the event.
Faculty and staff members who plan to organize an event should make a note on their event request form for event recycling containers, if needed. On this form, there is no longer an area designated for event recycling, so faculty/staff members need to make a note of any and all recycling needs at the bottom of the form under special needs/additional notes. Events that involve the serving of beverages should certainly provide an event recycling tote.
If you experience difficulty in acquiring an event recycling tote, please feel free to contact us at recycle@providence.edu, or at Ext. 1881 and we will work with Physical Plant to ensure that recycling takes place at your event.