Where and How to Recycle in Your Dorm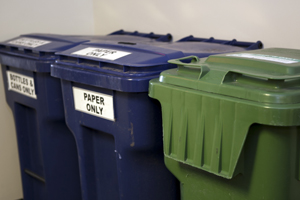 Providence College provides resources for recycling various types of recyclable items in all Residence Halls. Such items include mixed paper, bottles and cans, and corrugated cardboard. (For a complete listing of such items, please click here).  Because the residence halls may differ in size and configuration, procedures for recycling in each hall also differ. Procedures for recycling in your building are detailed below. Please do not hesitate to notify your Hall Director or Residence Assistant (R.A.) should you have any questions or concerns regarding recycling in your building. Any other questions can be forwarded to the PC Recycling Program via email recycle@providence.edu.
Click on the links below for specifics on recycling in your residence hall.
Traditional Dorms

Aquinas
Apartments and Suites
Recycling your cardboard boxes. Break down and flatten any cardboard boxes you wish to recycle. Place them in the trash room on your floor, near a recycling tote, but not in the trash barrels. Corrugated cardboard only! Thin cardboard, like cereal boxes, go in the "Mixed Recyclables" tote. The cleaning company will take the cardboard out separately for recycling.
What goes in the "Mixed Recyclables" tote? The following types of bottles and cans may be recycled in "Mixed Recyclables" totes: aluminum and tin cans; glass bottles; plastic bottles; plastic milk and juice containers. Please rinse containers out first. No bottle caps! Throw them away in the trash.
The following types of paper items may be recycled in "Mixed Recyclables" totes: Envelopes, copy paper, computer paper, newspapers, magazines, notebook paper, phone books, file folders, etc. No food wrappers or pizza boxes, no paper or Styrofoam cups, no carbon paper, no wax paper, no adhesive labels or stickers.
For a more complete listing of accepted recyclable items, please click here.
Note: Recycling totes are usually put out on Monday and Thursday evenings for the recycling truck, and on Thursday nights only during the summer. Please hold onto your recyclables until the totes are put back the next day, rather than throw them away as trash. 
How to recycle ink cartridges, electronics, and batteries: Students can recycle all of these items in the recycling center on the first floor of Accino hall. Students can also recycle electronics and batteries in the Slavin Recycling Center, which is located directly across from Dunkin Donuts in Lower Slavin. Students can also bring batteries, ink cartridges, and electronics to the Office of Environmental Health and Safety to be recycled, which is located in Harkins LL18.